Why Lofoten Islands you may ask yourself, it is a place many visit every year with their cameras and chase the perfect light. The main thing to bear in mind is we all go there for a reason and it is a simple one word answer, Perfection. I am aware perfection doesn't exist and there is always room for improvement in anything but trust me Lofoten Islands is the closest thing I have ever witnessed. In the winter months you have snow and a high chance of Northern Lights (Aurora borealis) and in the summer you have 24 hours of daylight with hours of golden light. If you add those together and mix it with amazing coast lines and huge mountains I think you will start to understand why it is so popular.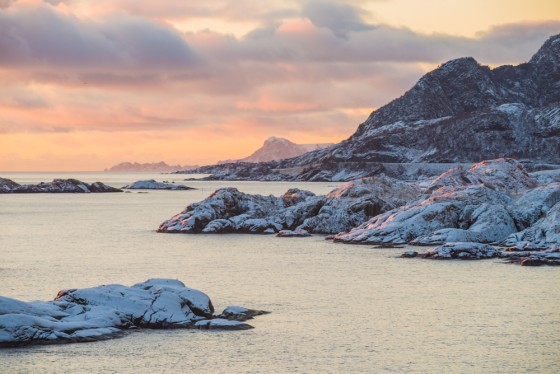 The other thing to add into the mix is it surprisingly isn't anywhere near as touristy as you would expect, as much as I love Iceland I feel it is now becoming what us photographers call a zoo, however, that won't stop me from returning it is now just extremely hard to be creative there. On day one in Norway this time we decided we would stay in Tromso (Tromso Camping) it has good facilities and lovely people running the site, plus it is only a five minute drive from the city centre. The Following day the drive was on straight down to Hamnoy to stay in Eliassen Rorbuer, having stayed here before I knew how amazing it was and how well looked after you are when staying there, plus you can get that iconic shot of the red huts and mountains we have all grown to love.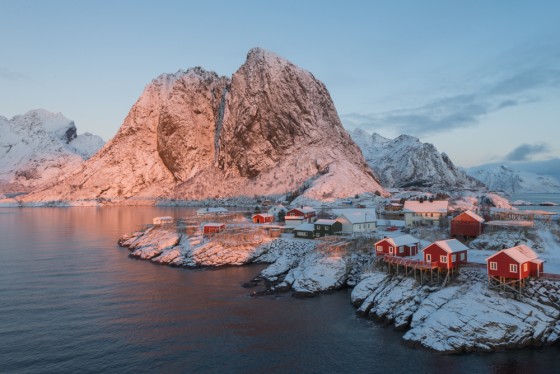 The drive was seriously long with road conditions not being ideal but on arrival we got our kit out the cars and set up our base camp ready for the next three days. As we starting thinking about food the aurora became fairly active so we skipping dinner and got straight on the road to Skagsanden beach a well known spot only a 20 minute drive away. At the beach we battled the elements standing out through a snow storm and high winds but that all became worth it when the sky cleared and the Northern lights danced for us. A few hours passed with a lot of compositions getting covered and we decided it was time for some well needed rest so headed back.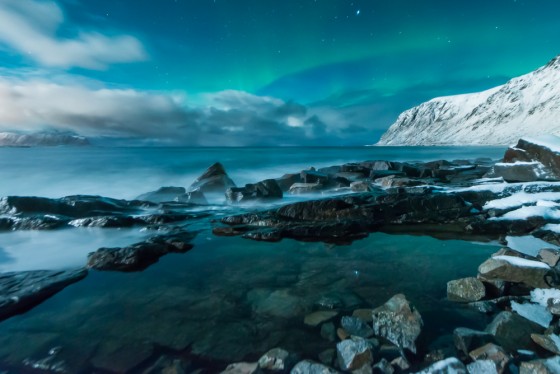 The following morning the sunrise wasn't until 10:30am so we got our self a lay in before walking out the front of the cabins coffees in hand and cameras set up. Luckily the view from the site is absolutely stunning so no need for a mad sunrise dash and hike, just a relaxing coffee and chat while the sunlight was soft. We then got some breakfast and the first hike was on, we had heard about a stunning set of waterfalls (most stay at the bottom of them) and we wanted to hike the mountain to reach the top. Snow made it a tricky accent but after a lot of left to right walking and stopping to get some snaps on the way up we made it and god was it worth it! At the top we found a lake that was far bigger than we had imagined and an amazing set of waterfalls that just dropped off the side of the mountains, would you believe this was again just a 20 minute drive from the accommodation. As the light started to vanish we did our decent and reached the bottom just as night fell, a quick stop at the shop and we went back to make a hot well needed spaghetti bolognese. Three hours later and after I had done some editing tutorials with clients the time had come to head back out on an aurora chase! We headed out and the cloud was a lot thicker than the first night making it a trickier but we persisted with a few locations and it paid off and the aurora once again showed herself.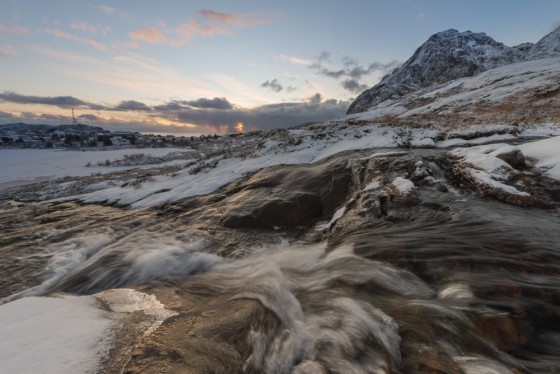 Day three and our last day there had arrived, we decided to get the drones out for some flying and get across to a few more locations on the east side of the islands. We arrived at Fredvang which is home to the famous double bridges you see so many images of, but some of the clients had drones so they wanted to get something unique there. The snow was thicker than anywhere we had been so far which made for awesome foregrounds on the still cameras, as I played around with that Matt and Ben gave some help with the drones. That night we decided to try our luck over on Fredvang for some northern lights but again mother nature had a different idea and the chase for broken cloud was on, we turned down a few dead-end roads but eventually found a stunning little area with a hoar-frost and a lot of snow and out of no where the sky lit up green again! The drive back to accommodation was a hyped up one with what we thought was the end of our time in the Lofoten Islands… But as we drove back onto the estate the sky started dancing green again with clear skies and we stayed out for another hour.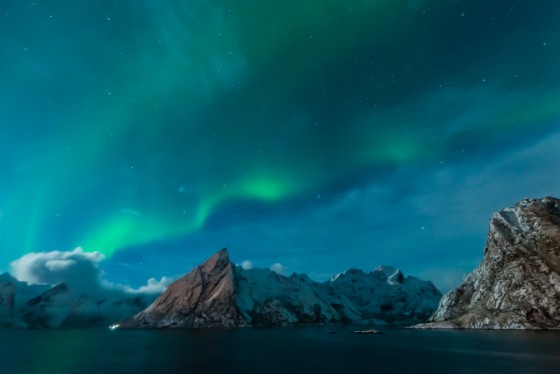 So as you can imagine from this little blog entry it's not only a stunning place but the elements make it an incredible adventure and with the right people like we had this time there is constant laughing and excitement.
For next years dates visit
You can sign up to the newsletter for all our tour details on capture tours website.
[justified_image_grid ng_gallery=19 ng_description=no]